Deep-dives on solar products and business insight for residential and commercial solar installers.
In-depth articles, videos, podcasts, and more. We discuss solar products, the solar market, and the business of running a healthy and successful solar contracting company.
Featured Articles on Solar Products and Solar Technology
Solar Policy Review: Look back on 2022 legislation and prepare for 2023
In this episode of Power Forward! with Solar Builder, David Dunlap, our VP of Product Strategy, dives into the policy changes in 2022 and what they mean for installers in 2023.
Strategizing for 2023: How solar installers can develop their company strategy
BayWa r.e.'s VP of Strategy sits down with Solar Builder to discuss how solar business leaders can approach 2023 with a strategic plan in this new episode of Power Forward!
Solar Tech Talk E16: Solar Module Efficiency & Supply with JA Solar
Aaron and Tiernay discuss new residential modules from JA Solar – their current (high!) availability and efficiency – and touch on the CA NEM 3 proposal coming mid-December.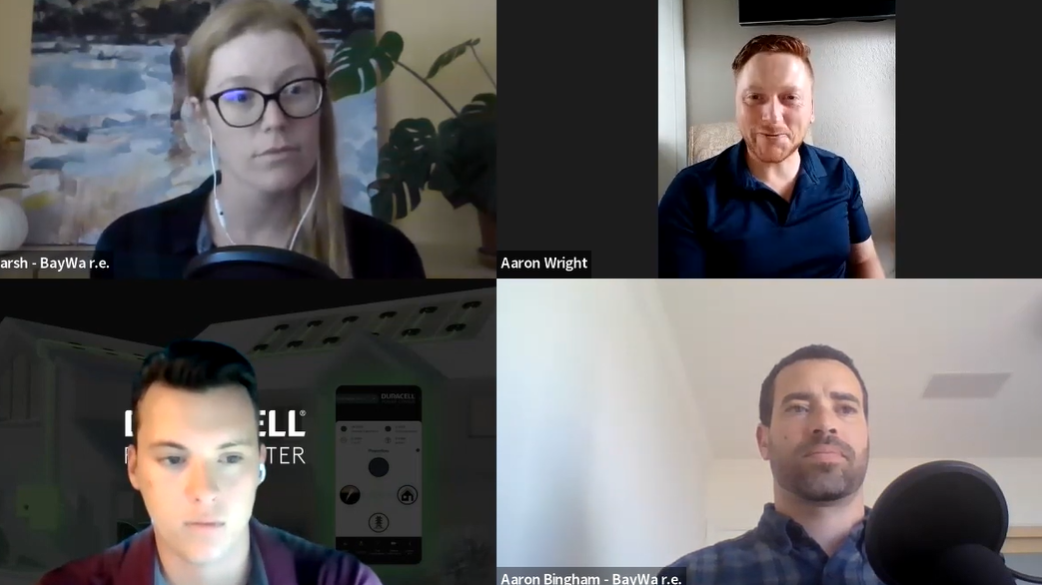 Solar Tech Talk E15: All About Storage with Duracell Power Center
Aaron and Tiernay help unveil the newest ESS offering in the solar industry: Favorite household brand Duracell launches energy storage system with flexible install options
Solar Tech Talk E14: Pivotal Time for Solar: Inflation Reduction Act and PVpallet's Sustainable Shipping Solution
Tiernay and Aaron discuss impacts of the IRA legislation and how PVpallet's new recycled shipping solution for solar modules is making the industry more sustainable.
Give your Homeowners the Power: A Webinar from Duracell Power Center
Household brand name Duracell enters the solar industry with full suite of energy solutions for solar installers to build customizable PV and energy storage systems
How Solar Installers Can Offer Solar+Storage to Increase Sales
Homeowners are asking for solar+storage: In this Solar r.e.view podcast Aaron Bingham discusses how solar professionals can win more customers by adding storage services.
Grow Your Solar & Storage Business in 2022 and Beyond: A Webinar with Panasonic
Panasonic experts share product and program insights to help solar installers ride the waves of the solar industry, now and for years to come.
Solar Tech Talk
Featuring Deep Dives on Solar Products, Business Tips, and Industry Veterans
Deep Dives into Solar Financing
How to Run a Financially Healthy Solar Installation Business
Rachel Schapira talks with Chris Crowell about finanical best practices for solar installers in Episode 6 of PowerForward!, a partnership of BayWa r.e. and Solar Builder.
Solar Financing Podcast: Common mistakes contractors make and what to do instead
Join Rachel Schapira as she talks to finance experts Robyn Kenkel (HHFR Enterprises) and Gregg Fisher (GoodLeap) on how contractors can position themselves for success in the residential solar financing market.
Financing Podcast: Financing 101 for Your Solar Installation Business
Our Director of Residential Financing Rachel Schapira provides an intro on how contractors can best leverage solar financing products.